When it comes to the vibrant Gold Coast of Australia, one thing is crystal clear – businesses thrive here! But in this bustling hub of activity, there's one crucial aspect that no business owner, property manager or contractor can afford to overlook – electrical work. Electrical issues can be sneaky gremlins that disrupt your operations and dent your profits; that's why the right commercial electrician is a must.
Tips for Choosing the Right Commercial Electrician
When you entrust your electrical needs to a reliable commercial electrician, you can rest assured that your systems will be installed, maintained and repaired correctly. This reduces the likelihood of breakdowns and potential hazards, promoting a safe and productive work environment.
Here's how you can be sure you've chosen the right commercial electrician.
Experience and Expertise
When looking for a commercial electrician in the Gold Coast, experience and expertise should be your top priorities. Choose an electrician with a substantial history of serving businesses and commercial properties, with proficiency in handling diverse electrical projects. Look for a track record of successful installations, maintenance and repairs in various commercial settings to ensure reliable and skilled service.
Licensing and Certifications
When selecting a commercial electrician, always prioritise licensed and certified professionals. Proper licensing ensures they meet the required standards and regulations set by authorities. Look for higher level certifications from recognised industry bodies, a sign of commitment to professional development and adherence to best practices. Trusting licensed and certified electricians guarantees quality and reliable service for your commercial electrical needs.
Specialisations and Services
Take into consideration their specific electrical services and specialisations. Electrical needs in the commercial space may vary, from new installations and upgrades to troubleshooting and emergency repairs. Look for an electrician offering comprehensive services tailored to commercial requirements.
Reputation and Reviews
Take the time to research and read reviews from past customers to gauge their reputation and level of customer satisfaction. A reputable commercial electrician in the Gold Coast will have a strong presence in the community, backed by positive reviews and testimonials from satisfied clients. This valuable information provides insights into their reliability, professionalism and work quality – helping you decide whether they're the right electrician for your commercial needs.
Safety Standards and Practices
When selecting a commercial electrician, inquire about their safety standards and practices. A reliable electrician will have robust safety protocols to protect workers, clients and the public from potential hazards. Prioritising safety guarantees a smooth and secure electrical service for your commercial establishment.
Insurance Coverage
Before finalising your choice, ensure that your selected commercial electrician is insured. Electrical work can involve unexpected accidents or damages, and insurance coverage protects you from potential liabilities and expenses. Working with an insured electrician offers peace of mind, knowing that any unforeseen incidents will be handled responsibly without putting your business at financial risk.
Transparent Pricing
Look for a commercial electrician who offers transparent and detailed pricing. A trustworthy electrician will provide a clear breakdown of costs, ensuring you know exactly what you're paying for and can avoid any surprise charges. A transparent pricing structure builds trust and lets you make informed decisions for your commercial electrical needs.
Local Knowledge
When choosing a commercial electrician, choose one with extensive local knowledge in Gold Coast. Familiarity with the area's electrical requirements and Queensland regulations ensures compliance with local codes and standards, providing a seamless and hassle-free service for your business.
Warranty and Guarantees
Additionally, choose a reputable commercial electrician who stands by their work and offers warranties and guarantees on their services. Selecting an electrician with such assurances ensures confidence in the quality and reliability of their work.
Furthermore, a skilled commercial electrician keeps abreast of the latest industry standards and technologies. They ensure that your electrical systems are up to code, compliant with regulations, and energy efficient. Using their expertise, you can save on energy costs and contribute to a greener, more sustainable future.
Why Hiring the Right Commercial Electrician Matters?
Electrical systems play a pivotal role in keeping business operations running smoothly. From providing adequate lighting and climate control to powering critical equipment and machinery, these systems are the lifeblood of commercial establishments.
A poorly executed electrical job can have severe consequences. Frequent breakdowns can disrupt productivity, leading to costly downtime and delays. Moreover, faulty wiring or inadequate installations can create fire hazards, putting the safety of your employees and property at risk.
Electrical accidents are dangerous and can result in legal liabilities and damage to your reputation. Given the complexity and demands of commercial electrical work, hiring an experienced and qualified commercial electrician becomes paramount.
Contact Dan The Sparky Man for a Reliable Choice
When searching for reputable commercial electricians in Gold Coast, look no further than Dan The Sparky Man. With an unimpeachable reputation, extensive experience, and a dedication to customer satisfaction, we are the perfect choice for all your electrical, lighting, or solar power needs.
Servicing areas from Northern NSW to South of Brisbane, we ensure a seamless experience for your project. Ready to elevate your commercial project with our quality electrical services? Contact us today!
Posts You Might Like:
Benefits of a Professional Electrician for Commercial Buildings
The Importance of Having the Smoke Alarm System Installed in Your Commercial Property
Key Reasons Why Commercial Buildings Need Solar Rooftops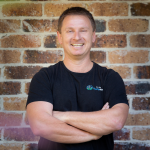 Dan Carpenter has built his business to be one of the most successful and trusted electrical businesses on the Gold Coast. He completed his apprenticeship in Adelaide at a young age. With a passion for self-driven success, he established his own enterprise on the Gold Coast at 22, quickly becoming a leader in the local building and solar industries. His dedication led him to win the Gold Coast Small Business Award and earn the title of Accredited Master Electrician.