Just look out of your window and check out the skyscrapers and eateries of the Gold Coast. Now, picture the industrial premises that also dot the region. Who keeps the lights on in both types of places? Electricians, of course! But not all electricians are equal.
Some work in those skyscrapers, retail premises and restaurants, while others make sure factories run smoothly. They might seem similar, but their jobs can be quite different. In fact, while both are essential for keeping our modern world running smoothly, commercial electricians and industrial electricians have quite different skill sets and areas of expertise. This blog post will delve into the differences between these two professions.
Commercial Electricians
Who are they?
Commercial electricians are the experts you call when you need electrical work done in non-residential buildings. These skilled professionals ensure that offices, malls, restaurants and other commercial spaces have safe and reliable electrical systems.
What do they do?
Their job involves installing, designing, maintaining, and repairing electrical systems within commercial structures. This includes everything from lighting to power outlets and beyond. They generally work indoors, ensuring electrical systems run smoothly in various commercial settings.
Skills Required
Technical and critical thinking

Effective communication

Resourcefulness for creative problem-solving

A strong sense of professionalism and reliability
Industrial Electricians
Who are they?
Industrial electricians are electrical experts in specialised environments like factories, manufacturing plants and industrial facilities. They deal with complex, high-voltage electrical systems.
What do they do?
Their role is demanding, involving installing, maintaining, testing and repairing electrical equipment and controls. Industrial electricians are the backbone of technological innovation, working with sophisticated machinery and systems within industrial facilities.
Skills Required
Industrial electricians need a wide range of skills, including:
Mechanical aptitude

Problem-solving and critical thinking

Analytical skills to diagnose complex electrical issues

Strong communication skills

Time management and organisation

Physical stamina for tasks like climbing, crawling, and lifting heavy objects
Key Differences Between Commercial and Industrial Electricians
Work Environment:

Commercial electricians work indoors in commercial buildings, while industrial electricians operate in industrial settings like factories.
Equipment:

Industrial electricians deal with complex machinery and high-voltage systems, while commercial electricians work with essential electrical equipment.
Voltage Levels:

Industrial electricians handle a more comprehensive range of voltage levels, making their work more complex and hazardous.
Training:

Industrial electricians receive more extensive training due to their more challenging and risky work environments.
Industrial Electricians vs. Commercial Electricians: Choosing the Right Expertise
When it comes to electrical needs, one size doesn't fit all. Depending on your industry and the nature of your workplace, you'll either require the services of an industrial electrician or a commercial electrician.
Industrial Electricians
Specialised Expertise:

If your workplace is buzzing with heavy, complex machinery, an industrial electrician is the specialist you need. They understand the unique requirements of various industries.

Installation Mastery:

They excel at setting up complex electrical systems.

Maintenance and Repairs

: Industrial electricians are skilled in installing and rapidly repairing electrical systems, minimising downtime.
Commercial Electricians
Office-focused Solutions:

If your workplace revolves around desks, computers or the retail sector, a commercial electrician is your go-to expert. They understand the unique electrical needs of office environments.

Retail Ready:

For businesses in the retail sector, commercial electricians are equipped to handle the specific electrical requirements of stores.

Versatility:

They can cater to various industries beyond offices and retail.
In conclusion, commercial and industrial electricians are crucial for maintaining the electrical systems that power our modern world. Understanding their differences helps you appreciate the specific skills and expertise each brings to their work environments.
Get Gold Standard Service from Dan The Sparky Man
If you require the services of skilled electricians for your commercial or industrial projects, look no further than Dan The Sparky Man. Our specialist and highly qualified professionals are ready to meet your electrical needs with precision and safety, whatever your industry. Contact us today for reliable electrical solutions that keep your business running smoothly.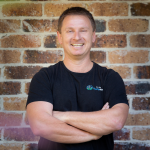 Dan Carpenter has built his business to be one of the most successful and trusted electrical businesses on the Gold Coast. He completed his apprenticeship in Adelaide at a young age. With a passion for self-driven success, he established his own enterprise on the Gold Coast at 22, quickly becoming a leader in the local building and solar industries. His dedication led him to win the Gold Coast Small Business Award and earn the title of Accredited Master Electrician.