It's essential that the electrical systems of commercial buildings prioritise safety, effectiveness and regulatory compliance. Hiring a qualified electrician with experience in business settings is key to ensuring electrical systems perform at their best while ensuring the safety of both occupants and business operations. In this article, we will discuss the advantages of employing a commercial electrician.
Knowledge and Expertise
Professional electricians focused on commercial buildings are well-versed in managing intricate electrical systems. They have received training in the complex wiring, lighting, power distribution and control systems used in commercial electrical projects. Their knowledge enables them to swiftly identify and resolve electrical problems, ensuring peak performance and reducing downtime.
Compliance with Regulations
To maintain safety and prevent legal issues, commercial buildings' electrical systems must adhere to multiple rules and regulations. Professional electricians are knowledgeable about regional building regulations and codes, guaranteeing that your business facility complies with all prerequisites. They have a thorough awareness of safety procedures and will make sure that all electrical work is carried out in accordance with the pertinent laws, lowering the possibility of mishaps or infractions.
Enhanced Safety
When working with electrical systems, safety should always come first, especially in commercial buildings where many people work or visit. Professional electricians receive extensive training in electrical safety, and they have the experience necessary to handle potentially hazardous circumstances properly. They understand how to identify hazards, put safety precautions in place, and handle electrical components without endangering people's safety or the structural integrity of the building.
Efficient Troubleshooting and Repairs
Electrical issues can cause costly downtime and interfere with commercial operations. Professional electricians have the expertise to diagnose problems properly and rapidly, determining the underlying cause and putting forth workable remedies. Because of their expertise, they can work quickly to restore your electrical systems while minimising the damage to your building's activities.
Long-Term Cost Savings
Despite the initial expense required to hire a professional electrician for your commercial facility, there may be significant long-term cost benefits. Professional electricians provide high-quality workmanship that lessens the possibility of ongoing electrical problems or early system failures. They help avoid future costly repairs or replacements by handling issues appropriately the first time. Additionally, by maximising your building's electrical efficiency, they can help you reduce energy usage and save money on your power costs.
At Dan the Sparky Man, we know that when it comes to hiring a commercial electrician, you seek one that you can trust. We have a solid reputation for dependability, skill and honesty. Contact us today for a professional electrician that will handle your needs with care and deliver the highest levels of satisfaction and peace of mind.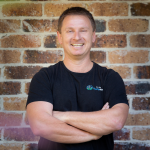 Dan Carpenter has built his business to be one of the most successful and trusted electrical businesses on the Gold Coast. He completed his apprenticeship in Adelaide at a young age. With a passion for self-driven success, he established his own enterprise on the Gold Coast at 22, quickly becoming a leader in the local building and solar industries. His dedication led him to win the Gold Coast Small Business Award and earn the title of Accredited Master Electrician.