Did you know that we are Gold Accredited Master Electricians? 
Everyone knows what an electrician is, but what exactly is a Master Electrician? 
A Gold Master Electrician is awarded to contractors by Master Electricians Australia (MEA) when they fulfil & maintain a stringent accreditation process. 
This is the highest accreditation you can achieve in our industry & we are very proud to have reached this status.
Why Hire a Master Electrician? 
By hiring a Master Electrician you know that you are using someone committed to providing the best electrical service with the highest level of safety. 
Electrical contractors become Master Electricians once they pass a stringent safety and quality audits plus agree to adhere to a strict code of ethics. Master Electricians are going to have the right tools for your job, and be aware of the latest industry standards, processes and procedures – which all translates into a superior service for their clients. 
What is Master Electricians Australia (MEA)?
Master Electricians Australia (MEA) is the peak body for the industry in Australia. 
Their mission is to, "champion safety, excellence, trust and confidence in the electrical industry and community", with an accreditation program for electrical contractors. 
Tips for Hiring an Electrician
If you are unsure what questions to ask an electrician the next time you need one, make sure you cover these bases:
Are you licensed for my job? Ask to see their licence to check it is valid.

Are you insured to work in my home? Ask to see their insurance documents.

Do you have references from local clients?

How much will my job cost?

Can you provide me with a detailed written quote?

When can you start my job?

How long will it take?
Call us today on (07) 5522 4444 to hire a Gold Accredited Master Electrician on the Gold Coast!
Residential Developments – Gold Coast Electricians

Need an experienced team of electricians for your residential development project on the Gold Coast?
Then let our award-winning team of specialist electricians take care of your job. 
Not only do we have Gold Accredited Master Electrician status but we also have years of experience working with developers, architects and builders. That means we know what it takes to work on-site with you, your client and all the other trades on a complex project. 
Our domestic and commercial experience on the Gold Coast includes working on:
Master planned housing estates

Multi Unit residential developments

Child Care Centres 

Commercial Office & Shop fit outs
You should also know that when you partner with us, you only ever deal with us – for superior service and a lifetime workmanship guarantee on all of our work. With the highest level of industry accreditations and equal emphasis on education, safety, customer service, you can rest assured that you are dealing with the best in the business.
Contact us today on (07) 5522 4444 to arrange for a FREE, no obligation consultation with myself or one of my expert team
Residential Developments: Electrical Services Gold Coast

We have the expertise and expertise to take on a full range of electrical and technical services to new buildings and upgrades for large residential projects. Our experience working with builders and developers means we can provide all facets of residential electrical including:
Communications, NBN, data and telephone cabling

Home automation and C-Bus systems

Security/access control and CCTV

Low energy LED lighting

Communications, NBN and security and CCTV

Installation of UPS and generators
Our Accreditation
Our team is made up of Qualified Master Electricians who are also accredited by the Clean Energy Council. By choosing a Master Electrician you are choosing a contractor whose safety systems are accredited and monitored, and who provides a workmanship guarantee. Master Electricians are reliable contractors who provide excellent service and information, helping you save time and money. The Clean Energy Council Accreditation demonstrates competence in the design and installation of Solar Power systems. Bound by a Code of Conduct, accredited members must follow CEC Guidelines, Australian Standards and all other relevant regulations
Gold Coast Electricians: Our Electrical Services
Besides residential developments and commercial electrical contracting, we also have a full range of electrical services including:
Customised LED lighting plans

Solar power design and installation

Project management

Lighting design and installation
Why Choose Us For Your Residential Development?
Need some reasons why you should book your residential development job with us? Hire us for:
Fully licensed and accredited Master Electricians 

Experience working with developers and builders

Insured to work on your project

Coordinate with other trades

12-month workmanship guarantee on all of our work

Dedicated project manager for your job

12+ years experience 

Quality workmanship

Obligation free quotes 

90% of our customers are through referrals or word of mouth
We are also proud to have been recognised with the Gold Coast Business Excellence Award, finalists in the Master Electricians Excellence Awards and a nominee for Gold Coast Young Entrepreneur of the Year. 
Call us today on (07) 5522 4444 to get your residential development project on the Gold Coast off the ground!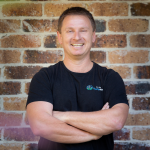 Dan Carpenter has built his business to be one of the most successful and trusted electrical businesses on the Gold Coast. He completed his apprenticeship in Adelaide at a young age. With a passion for self-driven success, he established his own enterprise on the Gold Coast at 22, quickly becoming a leader in the local building and solar industries. His dedication led him to win the Gold Coast Small Business Award and earn the title of Accredited Master Electrician.