There are various types of inverters one can choose from for their home. It can be difficult trying to figure out which is the best suited for you, so having an understanding of the different inverters can help you make the right decision.
Types of Solar Inverters
No matter the kind, inverters need to be AS 4777 compliant and authorised by the Clean Energy Council (CEC). Here are the most common models used in Australian homes.
String Inverters 
These are the most popular inverters for households and are typically the cheapest and most uncomplicated. They are called string inverters because one inverter is linked to a string or numerous strings of solar panels. The inverter's size and brand determine how much it costs. The cost of a string inverter ranges from less than $1000 to more than $2000.
Hybrid Inverters
Hybrid inverters are string inverters that also have the ability to link a storage battery to the solar system. This allows it to function even in the case of a blackout. Regular string inverters can be less expensive than hybrid inverters. These can range in price from $1000 to $2000, although typical models cost at least $3000.
Microinverters 
Each panel may have its own microinverter rather than the system's single inverter. Although the panels and microinverters are typically distinct parts, they can alternatively be purchased together as an AC solar module. Microinverters are attached to each panel on the roof and are more weather-exposed than string inverters. The price is significantly influenced by the system's total number of panels and their rated output. An individual microinverter may cost about $200.
Optimised String Inverters
Optimised inverters are similar to microinverters; however, they use slightly different technology. Optimiser systems need a string inverter, but they attach optimisers to the back of solar panels, optimising each panel's output. Optimised inverters are similar to microinverters but with somewhat lower prices.
Factors To Consider When Choosing an Inverter
Size
Your solar panel array's size will determine the size of inverter you require. To calculate an inverter's size, the maximum output capacity of the inverter must be at least 75% of the capacity of the solar array. The array capacity may be up to 133% of the inverter capacity, to put it another way.
Efficiency 
The efficiency of an inverter is an important factor to consider when making a purchase. An inverter's efficiency will determine how much energy the inverter can produce and how much electricity it consumes. For example, an inverter with an efficiency of 95% will produce 95% of the energy the solar array produces.
Functionality
Different inverters have different capabilities. Some models are more basic and are only able to convert DC energy from a solar panel into AC energy, while other models have additional features, such as the ability to monitor the performance of the solar system and the ability to connect to a battery storage system.
Cost 
The cost of an inverter can range significantly depending on the size, efficiency, and functionality of the model. The cost should not be the only factor to consider when making a purchase, but it can help narrow down the options. 
Warranty 
Most inverters come with a warranty of at least five years. It is important to make sure that the warranty covers any necessary repair or replacement of the inverter if it fails due to a manufacturing defect. 
As master electricians and solar installers, our team at Dan the Sparky Man have been approved by the Clean Energy Council. We guarantee that we'll meet and even exceed Australian standards. Knowing that every member of our crew has received training in best practices for solar energy systems, batteries, and other renewable power system installations will give you peace of mind. Contact us today for a quote on our solar services.
Related posts: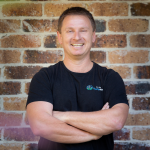 Dan Carpenter has built his business to be one of the most successful and trusted electrical businesses on the Gold Coast. He completed his apprenticeship in Adelaide at a young age. With a passion for self-driven success, he established his own enterprise on the Gold Coast at 22, quickly becoming a leader in the local building and solar industries. His dedication led him to win the Gold Coast Small Business Award and earn the title of Accredited Master Electrician.