The Queensland government has been going strong with the promotion of solar panel systems since 2008. Thanks to its bonus scheme for panel installation, the number of households transferring to solar energy production is constantly increasing.
A feed-in tariff for solar power refers to the amount that the energy supplier pays for excess solar power that the system supplies to the grid. Feed-in tariffs offer a means for passive income through your solar system and benefit from electricity bill savings that will have your system paying for itself within a few years. As many of you may already know, the solar bonus scheme offers a feed-in tariff of 44 cents for all solar power users.
To ensure you stay eligible for this type of bonus government-prescribed requirements, we will provide you with all the necessary information required to do so. If you need advice about solar power installation, our experts at Dan the Sparky Man are ready at your service.
Becoming Eligible
The following criteria must be met in order to be eligible for a feed-in tariff:
30 kilowatt-hours must not be exceeded for the maximum capacity of the inverter, and the annual power consumption should be less than 100 megawatt-hours.
If you are on the Essential Energy network, your energy provider needs to be Ergon Energy, alternatively, Original Energy. Ensure that you are connected to the electricity grid.
Should you be in Southeast Queensland, your energy provider will set the necessary eligibility requirements. For instance, for the offer by Mojo Energy (18 cents per kWh FiT):
Mojo Energy must be your energy provider
You need to be part of the G'Day Sunshine energy plan
You must accept that the 18 cents per kilowatt-hour rate is restricted at 5 kilowatt-hours per day, thereafter dropping to 5.5 cents per kilowatt-hour
How to Stay Eligible
If you have already fulfilled the requirements for the bonus scheme, the government establishes requests that you will need to fulfil to remain eligible. First of all, you should make sure to use under 100 megawatt-hours yearly. This also means you should not stop over the capacity debt your electricity distributor approved and have a network connection agreement with them. Make sure to maintain the electricity account with an electricity supplier where the solar power system is installed.
You should also ensure that you remain the owner of the electricity account and that the name on it doesn't change even if you decide to pick another retailer. You may, however, transfer the account name to your spouse or add your spouse's name to the account.
When it comes to changing and maintaining the panel, you should replace each component with a part that is the same. If you need to change the inverter, you can do so by using the same or smaller size. Also, make sure you have other sources of energy when the solar panel isn't working.
Keep in mind this scheme allows you to increase your system up to the size of your inverter. To do this type of expansion, you will need professional assistance. So, turn to our technicians for any type of replacement or repairs and check with your power distributor company prior to adding any additional panels, systems, or batteries. Solar panels can be added to the system to scale the system up to the size of the inverter; the system must meet relevant Australian standards.
Losing your eligibility
The 44-cent feed-in tariff will be forfeited should you sell your house or move houses, as this would result in a new electrical account holder for the property. Additionally, you'll no longer be eligible if you transfer the account or add another name to the account that is not your spouse.
Other means of losing eligibility include closing your account or using substitute energy sources while a 44-cent feed-in tariff is in operation (should the alternate source not have a separate connection to the grid). In addition, if you increase the size of the inverter capacity, become disconnected as a result of a contract breach, or replace the inverter with a larger one, you'll forfeit your eligibility.
How to Regain Your Eligibility
While you are looking for advice on how to regain your eligibility for the bonus scheme, you should probably consider the way you lost it, as this might point you in the right direction.
If you haven't moved or sold your house, you may have lost eligibility because you changed the inverter for a larger one or increased its capacity. You could have closed your account, changed the name of its owner or simply got disconnected because you failed to pay a bill.
Whatever the case, to get back on track, you should contact your distributor. They will explain to you why you were removed from the scheme and recover your tariff. However, this is true only if you were ejected from it incorrectly. The distributor will restore and antedate the 44-cent feed-in tariff, had you been removed incorrectly.
Electricity Distributors
South East Queensland: Energex.
Regional Queensland: Ergon Energy and Origin Energy if connected to the Essential Energy network.
In the Case of Selling or Renting
As mentioned earlier, if you move or sell the property where the solar panel is installed, you will lose eligibility. Still, a major role in this plays the name of the account holder. It will certainly change once you sell the house. The same is true when you are renting. If your new tenant isn't your spouse, they will not receive the tariff. The only way to get it is if their name is on the account, and the size of your solar power system will not affect that.
Still, whether you are eligible for this bonus scheme or not, you should consider installing panels. These renewable power sources will affect your household in magnificent ways. They are a great way to save energy and reduce your electricity bill and carbon emissions.
In case you're considering this option, give us a call, and we will create for you the most suitable energy production solution. Whether you want to switch to this system completely or partially, we will be happy to introduce you to its potential.
Related posts:
Frequently Asked Questions
What solar panel discounts are available in Queensland?
Those living in Queensland are able to benefit from solar incentives worth approximately $2,772 for a standard 5kW solar system that is installed under the national SRE scheme.
What is the FiT incentive, and how does it work?
Sometimes your solar system might produce more electricity than you are able to use. A feed-in tariff for solar power allows this surplus electricity to be "sold" to the utility for a nominal fee.
What is the FiT in Regional QLD?
The government has a standard solar feed-in tariff at 6.583 cents per kWh.for regional Queensland
Do I need council approval to install solar panels in QLD?
Installation of a solar power system requires approval from a responsible authority such as a landlord, park manager or legal entity. You can then contact your local authority before purchasing a large system (above 5 kW). Ensure you meet the relevant requirements.
Can I run a house completely on solar power?
Given today's modern solar systems and solar cells as extra storage, you can reliably run your home business on solar power alone.
What is the average lifespan of solar panels?
Technological advances over the last 20 years have greatly extended the lifespan of solar panels. Most high-quality solar panels should be able to last over 25 years. In addition to its lifetime, solar manufacturers tend to protect their products with performance warranties.
Does home insurance cover solar panels?
Considering solar panels are part of the building, they should be covered by home and household insurance in the event of damage caused by covered items, such as weather conditions. However, this can result in higher insurance premiums. When in doubt, check with your insurance company before installation to clarify your solar panel coverage.
Must solar panels be cleaned?
For the most efficient use and durability of your solar panels, it is advised to keep them relatively clean and free of dust, dirt, pollen and other debris. Regular cleaning will improve the efficiency of the panels. Should you live in an area with a lot of smog, or a very windy area with dust and sand, regular cleaning can make a big difference and improve overall efficiency.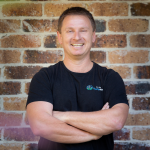 Dan Carpenter has built his business to be one of the most successful and trusted electrical businesses on the Gold Coast. He completed his apprenticeship in Adelaide at a young age. With a passion for self-driven success, he established his own enterprise on the Gold Coast at 22, quickly becoming a leader in the local building and solar industries. His dedication led him to win the Gold Coast Small Business Award and earn the title of Accredited Master Electrician.