Solar panels are a great way to save money on your energy bill, and they're good for the environment too. They also add value to your home, so if you're thinking of selling in the future, they're a wise investment. However, it's important to know how much solar panel installation costs in Gold Coast before you make the decision to install them.
Average Costs of Installation
The average cost of solar panel installation in Gold Coast is between $3,000 and $5,000. However, this price will be affected by a number of factors. The best way to get an accurate estimate is to get quotes from a reputable installer. It's also important to remember that a cheap installation is not always a good deal. Be sure to read reviews and compare prices before you make your decision.
Factors That Influence the Cost of Your Installation
The Size of Your Home
If you have a small home, you won't need as many solar panels as someone with a large home. The number of solar panels you'll need will also be affected by the amount of sunlight your home receives.
The Angle of Your Roof
If your roof isn't angled towards the sun, you won't get as much sunlight, and you'll need more panels to make up for it.
The Type of Solar Panels
There are different types of solar panels, and each has its own price. The most common type is called monocrystalline, which is also the most efficient.
The Quality of the Solar Panels
Not all solar panels are created equal. Some are better quality than others, and they'll last longer too.
The Installer
The cost of installation will also be affected by the company you choose to do the work. Be sure to choose a reputable company with the required accreditations and experience.
Ways to Fund Your Solar Panel Installation
If you're worried about the cost of installation, there are a few ways to finance your project.
Rebates: The Australian government offers solar rebates for households that install solar panels. The amount of the rebate depends on the number of panels you install, and it can be as much as $8,000.
Loans: A few banks and credit unions offer solar loans. These loans are usually for terms of 5-7 years, and the interest rates are very competitive.
Leases: Solar leases are becoming more popular, and they're a great way to finance your installation. With a solar lease, you make monthly payments to the leasing company, and they own the panels. This option is great because it allows you to get solar panels without any upfront costs.
Dan the Sparky Man is an accredited solar panel installer servicing the Gold Coast. If you're considering solar panel installation in Gold Coast, call us. We offer comprehensive quotes, and we'll work with you to find the best financing option for your project.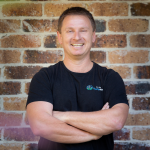 Dan Carpenter has built his business to be one of the most successful and trusted electrical businesses on the Gold Coast. He completed his apprenticeship in Adelaide at a young age. With a passion for self-driven success, he established his own enterprise on the Gold Coast at 22, quickly becoming a leader in the local building and solar industries. His dedication led him to win the Gold Coast Small Business Award and earn the title of Accredited Master Electrician.