An AC system can improve your workspace in numerous ways, especially when the summer sun hits hard. However, before you hire someone to install it, you will have to make sure the AC device you have chosen is suitable for your office. 
Fortunately, Dan the Sparky Man has an experienced team of air conditioning technicians who are ready to help you choose the best air conditioning system for your business premises – but before you dive in, let's consider the different options available to you!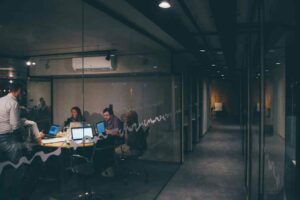 Duct Air Conditioning
This type of air conditioning is the first choice for many office building owners due to its aesthetically pleasing design. The small louver grilles also make these units easy to camouflage. 
It's worth noting that the duct AC system is pretty expensive in comparison to other solutions, and the reason is that it includes more parts. Additionally, while these units will fit into a wall in certain offices without any trouble, others will require that you suspend the ceiling to create extra space. Because of that, many experts recommend ducted air conditioning units for new buildings or renovating projects. 
Ultimately, as duct air conditioners can be adjusted to fit your office space, these units are perfect for anyone who considers the aesthetic appeal of their office interior to be a priority. 
Split Air Conditioning
If you are looking for the cheapest AC system solution for your office, then the single split aircon is the one for you! This type of unit uses less electricity than other types of air conditioners, reducing your energy bill and saving you money in the long run. 
The split system also has its unique perks; for example, the AC is capable of providing heating or cooling to specific parts of the room, and if one unit in the system breaks down, others will stay functional.
Beyond the office, this type of AC system is also suitable for other types of small commercial buildings like cafes, restaurants and shops. 
Just keep in mind that this system requires more space since you will need to install one conditioner outside of the building for every unit you place inside. 
Wall-Mounted AC
Wall-mounted AC, also known as mini-split AC, includes only one unit that you will need to mount on the wall. This device has to be fixed so that the air is directed downwards.
This is a great solution for small offices. It can also be used in medium-sized workspaces – just keep in mind that you will probably have to use more units for bigger spaces.
Furthermore, if you are looking for this type of AC installation for a bigger office, make sure that the air conditioners are positioned so that everyone inside will get the most of it. 
The main perceived disadvantage is that you cannot alter this type of unit to fit your office design. Wall-mounted air conditioners are long, thin, and in most cases, white. Still, if you are someone who cares about the workspace aesthetics, you may change smaller details such as the colour of the unit. However, even if you aren't a fan of the look, you can ask your electrician to set it up higher on the wall so that it is less noticeable.
Ceiling-Mounted AC
Also known as cassette air conditioners, a ceiling-mounted aircon is one of the more costly solutions for your office. Like duct AC systems, they can be installed in suspended ceilings. This means that they can be somewhat camouflaged, but not completely – the facial panel will still be in the view.
Ceiling-mounted air conditioners are great for large spaces where you need well-balanced cooling systems. They also have singularly controlled louvers that can direct the air in specific directions. 
Whatever choice you make, you should ensure your AC system is properly installed. For that, you will need assistance from a licensed electrician, so we suggest talking to the specialists at
Dan the Sparky Man
. With their great experience and high level of skill, you can be sure they will provide you with an excellent
Gold Coast AC installation service
.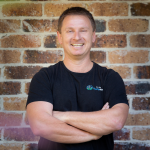 Dan Carpenter has built his business to be one of the most successful and trusted electrical businesses on the Gold Coast. He completed his apprenticeship in Adelaide at a young age. With a passion for self-driven success, he established his own enterprise on the Gold Coast at 22, quickly becoming a leader in the local building and solar industries. His dedication led him to win the Gold Coast Small Business Award and earn the title of Accredited Master Electrician.