At Dan the Sparky Man, we love nothing more than working with our great partners at Sunland Group to bring a dream energy-efficient estate to life. We have recently completed a major project entitled The Pines; a world-class residential development on the Gold Coast.
This residential townhouse development, which we began working on September 2012, was one of the largest under construction on the Gold Coast. After 11 months, 1,700 power points, and 61 kilometres of cable, we completed the 81 dwellings at The Pines in Pacific Pines on the Gold Coast in August this year. It was certainly very fulfilling to see the end result after almost a year of hard work. I had the opportunity to work with a number of great people and be a part of the project's transition from concept to completion.

Sunland Group is an Australian development company based in Royal Pines on the Gold Coast. Design is paramount in everything they create as evidenced from their first residential home in 1983 to their iconic developments such as Palazzo Versace on the Gold Coast and the landmark Q1, the World's tallest residential tower. Their motto is "Creating Art Through Architecture", which is very fitting for their residential development, The Pines at Pacific Pines.
Here is more information on what The Pines has to offers it's residents.
The Pines features an exquisite collection of modern townhomes that satisfy all the demands of family life without compromising style. Immediately notable is the way the homes are attuned to their environment, with striking feature windows that capture the sun and bathe the entries in light. The front exterior contrast of dark grey and off-white gives the homes unique character and hints at the impressive design quality to be found inside. Carefully considered landscaping is present throughout the community, with homes enhanced by special touches such as ornamental trees and richly textured sculptural rock walls.
Every desirable element has been included, such as expansive, open-plan living spaces, three generous bedrooms, superior fixtures and fittings, and large bathrooms. High ceilings and a soaring double-storey void at the entrance create an enhanced sense of space, and set the tone for relaxed, luxury living.
For residents, the green spaces of The Pines will become a treasured feature, providing a welcome expanse for both recreation and relaxation. Two barbeque pavilions will provide the perfect opportunity for friends and neighbours to gather.
Residents can also enjoy the 68ha of open parkland within Pacific Pines, traversed by wide walking tracks and cycling trails, including lakes and wetlands, playgrounds and many other sporting facilities.
I am proud to have been involved with this Sunland Group development and those lucky enough to own one of these now outstanding energy efficient homes were happy with the end result too.
Our company is committed to furthering our social responsibility to the environment and is passionate about helping home & business owners to reduce their carbon footprint. If you love our work at The Pines and want to know more about energy efficiency, come down to our Gold Coast showroom and speak to me or one of my fantastic team members today.
Photos courtesy of Sunland Group.
Dan Carpenter
Dan the Sparky Man
Come and join our social pages for the latest information, tips and products updates
Facebook page: http://www.facebook.com/DantheSparkyMan
Twitter page: https://twitter.com/DanTheSparkyMan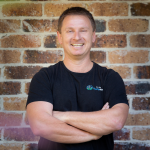 Dan Carpenter has built his business to be one of the most successful and trusted electrical businesses on the Gold Coast. He completed his apprenticeship in Adelaide at a young age. With a passion for self-driven success, he established his own enterprise on the Gold Coast at 22, quickly becoming a leader in the local building and solar industries. His dedication led him to win the Gold Coast Small Business Award and earn the title of Accredited Master Electrician.