If there is one thing I love doing, it is seeing a great project through from the beginning to the end. We have recently completed an extensive project at The Address Residences in beautiful Sanctuary Cove on the Gold Coast.
Being almost a year-long job, I had the opportunity to work with a number of great people and be a part of the project's transition from concept to completion.
This residential development, which we began working on June 2012, was one of the largest under construction on the Gold Coast. Using the latest and greatest energy efficiency products, the estate transformed to be filled with 6 star energy efficient rated homes. A total of 31 luxury homes, several being lakefront, were given our 'Dan the Sparky Man touch' to make for a very energy efficient premier gated estate. This stage of development follows on from the first stage which we completed back in 2010.
Sunland Group is an Australian development company based in Royal Pines, on the Gold Coast, QLD. Design is paramount in everything they create is evidenced from their first residential home in 1983 to their iconic developments such as Palazzo Versace on the Gold Coast and the landmark Q1, the World's tallest residential tower. Their motto is "Creating Art Through Architecture", which is very fitting for their residential development, The Address at Sanctuary Cove.
Here is a little bit more about The Address and what the estate has to offer.
Inspired architectural thinking and a commitment to harmonious design have ensured that The Address Residences sit gracefully within their landscaped environment. For the Lakefront Residences, the palette is raw and elemental, with stone and classic white perfectly complemented by lush, living greenery. The cool discretion of the exterior creates a contemporary and very private home, whilst still allowing natural light to spill into the living areas.
The strikingly modern Park Residences are designed to capture an abundance of natural light, thanks to the generous floor-to-ceiling windows throughout. Indoor luxury continues outdoors with each Park Residence concealing a sun-drenched private courtyard. Here, you can entertain in total privacy whilst enjoying the near-perfect weather of Sanctuary Cove's idyllic sub-tropical location. Source: Sunland Group
I am proud to have been involved with this Sunland Group development and those lucky enough to own one of these now outstanding energy efficient homes were happy with the end result too.
Our company is committed to furthering our social responsibility to the environment and is passionate about helping home & business owners to reduce their carbon footprint. If you love our work at Sanctuary Cove and want to know more about energy efficiency, come down to our Gold Coast showroom and speak to me or one of my fantastic team members today.
Dan Carpenter
Dan the Sparky Man
Come and join our social pages for the latest information, tips and products updates
Facebook page: http://www.facebook.com/DantheSparkyMan
Twitter page: https://twitter.com/DanTheSparkyMan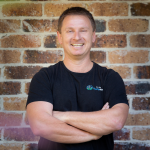 Dan Carpenter has built his business to be one of the most successful and trusted electrical businesses on the Gold Coast. He completed his apprenticeship in Adelaide at a young age. With a passion for self-driven success, he established his own enterprise on the Gold Coast at 22, quickly becoming a leader in the local building and solar industries. His dedication led him to win the Gold Coast Small Business Award and earn the title of Accredited Master Electrician.