During the process of running a business, entrepreneurs are always looking for ways to reduce costs and become more profitable. One option that many businesses are now considering is investing in solar power. If you're thinking about solar for your company, we've got the reasons why it's worth the investment.
Prices have fallen
Solar isn't exactly a new technology as it's been used in some capacity for more than 40 years. For the majority of solar power's history, solar panels have been considered to be very expensive. In the past, many homeowners and businesses could not justify paying so much for a solar power system. However, thanks to economies of scale and improvements in production processes, the prices of solar panels have been falling dramatically. In today's market, the prices of solar are much more reasonable than they've ever been before, and are even cheaper than retail electricity in numerous places.
Reduction (or elimination) of power bill
Having a solar power system installed in Gold Coast will mean your business could pay just a fraction of what you are currently paying for electricity. The cost per unit of your current energy costs is likely to be much higher than what you would spend for solar power.
Great return on investment
Government incentives and the decrease of solar equipment costs means installing solar power is a sound investment and a good financial decision for businesses. Investing in solar power generates both long-term savings and quick payback.
It's reliable
Once installed, a solar power system will require little maintenance and will provide electricity quietly and cleanly for 25 to 40 years, with most solar panels carrying a 25-year warranty.
Earning the "green" label
Having solar power will result in reduced consumption of fuels, reducing greenhouse gas emissions and pollution. By using this alternative source, your business can express its participation in the battle against global warming and can reduce the country's dependence on fossil fuels. Going green will not only reduce operation expenses but will serve as a great PR and marketing tool. Having an environmentally responsible image can be great for your company, as it can generate a positive response from consumers.
At Dan the Sparky Man, we employ only fully licensed, Master Electricians, who are also accredited for solar installations by the Clean Energy Council of Australia, to install and maintain your system. Solar has never been more affordable & we offer no interest payment plans on all of our systems. Talk to us today if you want to know more about having a solar system installed at your business. With more than a decade of experience in the industry, you can count on us.
Dan Carpenter
Dan the Sparky Man
Come and join our social pages for the latest information, tips and product updates.
Facebook page: http://www.facebook.com/DantheSparkyMan
Twitter page: https://twitter.com/DanTheSparkyMan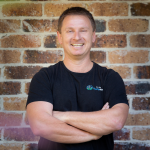 Dan Carpenter has built his business to be one of the most successful and trusted electrical businesses on the Gold Coast. He completed his apprenticeship in Adelaide at a young age. With a passion for self-driven success, he established his own enterprise on the Gold Coast at 22, quickly becoming a leader in the local building and solar industries. His dedication led him to win the Gold Coast Small Business Award and earn the title of Accredited Master Electrician.