It seems to be the topic of the month, if not the year – Electricity prices! From Carbon Tax implications to the Origin price hike announcement, to Origin's announcement to keep prices fixed.
Nobody likes prices increasing, especially for something as necessary as electricity. Are you a little confused with all the recent media on Electricity prices?
Recent Electricity Price Summary:
June 29th, Origin told tariff 11 market contract customers they were facing an increase of about 11 per cent.
June 29th – Early July Campbell Newman and QLD Government lobbied Origin on their price increase.
July 17th – Origin announces market pricing for Tariff 11 to match the Queensland Government's rate "freeze"
Electricity Tariff 11 Rates 2012/13
| | | | |
| --- | --- | --- | --- |
| Excl GST | Origin previously advised rates 12/13 | Government regulated 'frozen' rates 12/13 | Origin new rates 12/13 |
| All consumption c/kwh | 23.550 | 23.071 | 23.071 |
| Service fee per metering point c/day | 59.000-67.720 | 26.170 | 26.170 |

Even though Origin is "back in the race" we suggest customers continue to scout for the cheapest provider. Queenslanders can now compare electricity costs thanks to an online tool introduced by the State Government. You can view the 'Electricity Comparison Table' online. One Big Switch campaign director Christopher Zinn was also impressed with the electricity comparison table, saying it would certainly help people make the right choice.
The Big Electricity Switch
We have recently seen the organisations such as One Big Switch campaign against price rises as a community effort. Over 200,000 Aussies so far have joined The Big Electricity Switch through the organisation One Big Switch, and have helped unlock group discounts on electricity and gas. With a large user base One Big Switch have the power to negotiate prices down.
By registering with One Big Switch you are joining a network of consumers who are interested in using the power of group switching to cut the cost of regular household bills. Registering means you will be kept in the loop about group switching offers. You are under no obligation to take any of the Group Switch Offers. You can cancel your registration at any time.
You can register free online here https://www.onebigswitch.com.au/. Registration has been extended and is open until 17th August 2012.
Dan's Tips:
To get the best price comparison always check with your current energy retailer to see whether they can offer you a better deal.
Always read the fine print.
Be wary of long term contracts and exit fees.
Come and join the Dan The Sparky Man social pages for the latest information, tips and products or even join in to the conversation:
Facebook page: http://www.facebook.com/DantheSparkyMan
Twitter page: https://twitter.com/DanTheSparkyMan
For more information or to arrange a consultation, contact us at Dan the Sparky Man on (07) 5578 3481 or info@danthesparkyman.com.au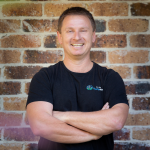 Dan Carpenter has built his business to be one of the most successful and trusted electrical businesses on the Gold Coast. He completed his apprenticeship in Adelaide at a young age. With a passion for self-driven success, he established his own enterprise on the Gold Coast at 22, quickly becoming a leader in the local building and solar industries. His dedication led him to win the Gold Coast Small Business Award and earn the title of Accredited Master Electrician.