After months of planning, our new website is finally here! We have listened to all of your ideas and have now finalised our more informational, more resourceful, and more user-friendly website.
The first key feature we have added is our Inspiration Gallery so you can get your creative juices flowing for your next renovation project. We have included photos to help you get ideas for everything from creating effective interior lighting plans to saving energy.
Our new website now has everything you need to know about solar power, including details on how much it can save you and how a solar panel system works. Our solar information kit can be accessed here.
We have also included descriptions of the top four products that are sure to save you the most on your electricity bill. You can read about these four products here.
Lastly, we have added an interactive LED Calculator to enable you to see just how much money these lights can save you.
We would like to say a massive thank you to Adam from Phyd Creative whose talent, hard work and patience has made our new website what it is. We highly recommend him to anyone looking to create a website or update their existing one.
We would love to hear your feedback on the new site, so don't hesitate to drop us a line on info@danthesparkyman.com.au
If you would like more information or a free quote make sure you drop into our Gold Coast showroom.
Dan Carpenter
Dan the Sparky Man Come and join our social pages for the latest information, tips and products updates
Facebook page: http://www.facebook.com/DantheSparkyMan
Twitter page: https://twitter.com/DanTheSparkyMan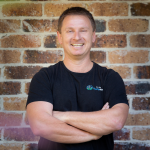 Dan Carpenter has built his business to be one of the most successful and trusted electrical businesses on the Gold Coast. He completed his apprenticeship in Adelaide at a young age. With a passion for self-driven success, he established his own enterprise on the Gold Coast at 22, quickly becoming a leader in the local building and solar industries. His dedication led him to win the Gold Coast Small Business Award and earn the title of Accredited Master Electrician.