There's nothing dreamy and or luxurious about a simple ceiling light in the bathroom. Designers now use dimmers, chandeliers and decorative wall sconces, low lights and high lights to bring a special look into the bathroom.
Lighting is crucial to how well your bathroom functions, not just how good it looks. The trick to bathroom lighting, and creating both ambience and functionality, is to use multiple layers. Include makeup lighting, place decorative ceiling lights over the tub area and light up any art displayed. In addition, add perimeter recessed lighting. For sparkle, use crystal or glass.
LED lighting is the perfect solution when looking to create a soft glow in the master bath, but they have to be positioned correctly. This type of lighting works best when you want to light underneath the vanity (one that is a separate piece of furniture, on legs), on the sides of niches or shelving, and as cove lighting on the ceiling.
Crystal chandeliers or beaded lighting can move out of the dining room and into the bathroom for a dreamy touch. Just hang a crystal pendant over the sink and mirror to sprinkle a soft glow throughout the space.
Photos courtesy of Susan Fredman Design Group, dSpace Studio Ltd, and PPDS
Source: HGTV
If you would like to design a new lighting plan for your bathroom, or any room in your home, give us a call.
Dan Carpenter
Dan the Sparky Man
Come and join our social pages for the latest information, tips and product updates.
Facebook page: http://www.facebook.com/DantheSparkyMan
Twitter page: https://twitter.com/DanTheSparkyMan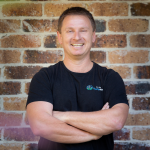 Dan Carpenter has built his business to be one of the most successful and trusted electrical businesses on the Gold Coast. He completed his apprenticeship in Adelaide at a young age. With a passion for self-driven success, he established his own enterprise on the Gold Coast at 22, quickly becoming a leader in the local building and solar industries. His dedication led him to win the Gold Coast Small Business Award and earn the title of Accredited Master Electrician.