Instantly accessible light is a priceless resource, but that doesn't mean you should expect to pay extra for it! The right lamps and bulbs can help you save power and reduce your electricity bills, while also creating a specific mood in your home and enhancing the aesthetic of your space. 
However, not all lighting choices are energy-efficient, which is why specially designed lightbulbs are the best option for reducing your power bills. While the current market offers plenty of choices, three types of lighting stand out as the most effective options: light-emitting diodes (LEDs), compact fluorescent lamps (CFLs), and halogen incandescents.
For instance, if the lights in your back or front yard are often left on throughout the night, experts will recommend you to use LEDs or CFLs. Of course, if you need an entirely new outdoor lighting installation or you wish to try out some of these energy-efficient solutions, you can always contact Dan the Sparky Man. 
Before you decide which type of lights to install, there are a few things you should know about each of them. So, let's take a look at the most popular energy-saving and cost-efficient lighting solutions.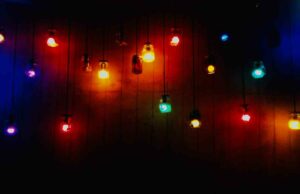 Reduce Your Electrical Bills With LED Lights
LED lights are, at the moment, the most popular choice for anyone who is looking for a cost-friendly lighting solution. As a garden illuminator, these lights can withstand heavy rains and snow, and they can also create unique aesthetics, coming in different shapes, sizes, and colours.
The interesting thing about LED lights is their unique method of creating light. To illuminate the source, an electrical current passes through a specially designed microchip. In this way, LEDs can generate light using less energy and less heat in comparison to other lighting solutions. With them, you will lower your energy usage by up to 80%; hence, while LEDs might come with higher initial costs than regular bulbs, the investment will pay off in the long run. 
Save Some Power With Compact Fluorescent Lamps
CFLs are another solution that will have a positive effect on your household budget – and you might already have a similar, slightly larger type of light in your office or garage. Each CFL bulb contains a small portion of mercury, so you should recycle it once its lifespan ends.
Like LEDs, this type of bulb can be used to beautify the space. They also come in different colours, and they are a perfect choice if you are looking for a dimmable light. Since a CFL uses less energy than other lighting solutions, many people do not hesitate to invest in it. Though they use more energy than LED lights, CFL lights are still more practical in comparison to the regular bulb. According to the statistics, it will pay for itself in nine months, after which point you will be accumulating savings each month. 
Try Out Halogen Incandescents
Halogen incandescents are illuminators that contain a quartz capsule filled with halogen gas that surrounds filament. In the same way as a regular bulb, these lights channel the current of electricity through the wire inside and generate light by heating it. The gas is made out of iodine and bromine, and it induces the slow-burning of particles in filament, which are later replaced and reused. Best of all, this type of lighting can last for 2,500 hours before requiring a replacement, so you're sure to get your money's worth out of this investment.
LED, CFL or Halogen Incandescents – What's The Best Choice?
Finally, to make your lighting system more energy-efficient, you should choose the best of the above-mentioned options. As you can see, there are different cost-effective options, but LED lighting seems to be the best one. 
To learn more about lighting solutions that can lower your energy bills, we suggest talking to Dan The Sparky Man experts. We will be more than happy to provide you with professional advice as well as indoor and outdoor lighting service.