When we are busy having fun in the sun, it's easy to forget that our beautiful summer is also our storm season until it's too late. All too often, we are approached after a severe thunderstorm has resulted in costly appliance damage, switchboard destruction or water damage in and around lights especially. To keep your home and more importantly your family safe during the impending storm season, there are a number of measures that Gold Coast residents can take.
Firstly, ensure that you have a Mains Surge Protector installed in your switchboard. This protects your appliances in the event of a power surge. If you don't have one of these, unplug all appliances from the wall. It is not enough protection to simply turn them off.
Secondly, it is absolutely critical to have a Safety Switch installed in your switchboard – this protects you and your family from electric shocks and electrocution. Safety switches also minimise the risk of electricity-related fires. Moreover, it is now a legal requirement for all new homes to have safety switches protecting both power points and lighting circuits.
In the event that you suffer water damage, particularly in or around your lights, switches and powerpoints, do not touch them. Ensure you get them tested and checked by a licensed electrician as soon as possible. Also consider having a roof inspection prior to storm season if you think it could let water in or is prone to damage during a storm.
Another more general tip to consider is that in the event of a storm warning, you should make sure all mobile phones and tablets are fully charged ready in case of a blackout as even cordless home phones don't work without power. Also remember to have a torch in a location known to all family members ready in the event of a blackout. And don't forget to check the batteries!
It's also a good idea to make certain that your pets' registration and tags are current before storm season hits. Many dogs especially experience high stress and anxiety levels during storms and become more likely to run away or get lost, so assuring they are wearing their collar and their registration is up-to-date is vital.
Lastly, although we are all told time and time again, it is so important to remember to not touch or go anywhere near fallen power lines. It is also critical to walk carefully after a storm has taken place as power lines could be hiding among grass and debris. If you see a fallen power line contact Energex immediately.
For more tips on how you can stay safe this storm season, you can contact us on info@danthesparkyman.com.au
You can also visit the Queensland Government Electrical Safety page for more information on electrical safety in both storms and floods.
Dan Carpenter
Dan the Sparky Man Come and join our social pages for the latest information, tips and products updates
Facebook page: http://www.facebook.com/DantheSparkyMan
Twitter page: https://twitter.com/DanTheSparkyMan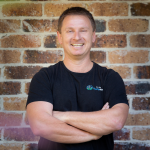 Dan Carpenter has built his business to be one of the most successful and trusted electrical businesses on the Gold Coast. He completed his apprenticeship in Adelaide at a young age. With a passion for self-driven success, he established his own enterprise on the Gold Coast at 22, quickly becoming a leader in the local building and solar industries. His dedication led him to win the Gold Coast Small Business Award and earn the title of Accredited Master Electrician.