Gold Coast Business News selects Dan Carpenter Director of Dan the Sparky Man as Young Entrepreneur for month of August.
Gold Coast Business News recently contacted Dan Carpenter the Director of Dan the Sparky Man to announce he had been selected as Gold Coast Young Entrepreneur for the month of August. This comes after Dan the Sparky Man won the June Gold Coast Business Excellence Awards for Trades, Services and Professions.
Dan is featured in the latest edition of Gold Coast Business News Magazine for his success as a young entrepreneur. Dan Carpenter, who left school in Year 11 to join the electrical trade, has grown his business into a million-dollar enterprise just six years after starting out in a van.
Dan contributes his success to his staff and this quote, "It is about being open to new opportunities, thinking outside the box. If you don't I think you will never move forward".
To read the full article you can find a copy of Gold Coast Business News online or in local Gold Coast newsagents.
Young Entrepreneur Dan Carpenter Director of Dan the Sparky Man featured in August 2012 Gold Coast Business News
Come and join the Dan The Sparky Man social pages for the latest information, tips and products or even join in to the conversation:
Facebook page: http://www.facebook.com/DantheSparkyMan
Twitter page: https://twitter.com/DanTheSparkyMan
For more information or to arrange a consultation, contact us at Dan the Sparky Man on (07) 5578 3481 or info@danthesparkyman.com.au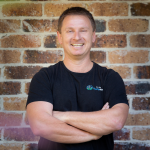 Dan Carpenter has built his business to be one of the most successful and trusted electrical businesses on the Gold Coast. He completed his apprenticeship in Adelaide at a young age. With a passion for self-driven success, he established his own enterprise on the Gold Coast at 22, quickly becoming a leader in the local building and solar industries. His dedication led him to win the Gold Coast Small Business Award and earn the title of Accredited Master Electrician.