Our business was created on the premise that energy efficient solutions are the way of the future. That's why we love nothing more than working to transform houses, businesses or estates to be as energy efficient as possible. Recently, we completed a project in Jimboomba where the outcome was a 6 star energy efficient rated boutique acreage property.
This stunning house is truly a labour of love for the home owners, who were the builders themselves. The owner/builders did not just want a visually appealing home, however – they wanted it to be energy efficient, which would allow them to save substantial costs and reduce their impact on the environment.
We were called in to consult with the owners prior and during the construction of the new home, to create and implement the electrical and lighting plans. Firstly, I worked closely with the homeowners to design a lighting plan that would give the house ambience and atmosphere. A key element to the plan was LED lighting technology which you can't go past if you're wanting energy efficient lighting for your home.
Both the indoor and outdoor features of the home were highlighted with LED lighting, giving their house that show home appeal. We also took advantage of pendant lights and installed these cleverly throughout the house. We used them as features, installing them on either side of the bed in the master bedroom to replace the traditional bedside table lamp. This worked well and gave this bedroom the wow factor the owners were after. We also used gimble LED downlights to highlight the feature walls in the home.

To further the energy efficiency, the owners also wanted solar power. We installed a 5kW Solar System which didn't detract from the appearance of the roof.

In addition, the house was topped off with ceiling fans throughout and appliances were strategically connected to off peak tariffs.

If you love this Jimboomba house and would also like to make your home energy efficient, please do not hesitate to give us a call today.
Dan Carpenter
Dan the Sparky Man Come and join our social pages for the latest information, tips and products updates
Facebook page: http://www.facebook.com/DantheSparkyMan
Twitter page: https://twitter.com/DanTheSparkyMan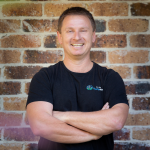 Dan Carpenter has built his business to be one of the most successful and trusted electrical businesses on the Gold Coast. He completed his apprenticeship in Adelaide at a young age. With a passion for self-driven success, he established his own enterprise on the Gold Coast at 22, quickly becoming a leader in the local building and solar industries. His dedication led him to win the Gold Coast Small Business Award and earn the title of Accredited Master Electrician.