Buying a home is a major decision and requires careful consideration. To ensure that the home is safe and sound, it is important to have a thorough electrical inspection prior to purchasing. Inspections should be conducted by a professional electrician, who can identify any potential problems and advise on any necessary repairs. Here is a checklist of items to look for before buying a house.
Check the main circuit breaker panel and make sure it is up to date with the correct wiring and circuit breakers.

Inspect all outlets and switches to make sure they are properly wired and grounded.

Check all exposed wiring for signs of fraying or damage, and make sure it is up to current safety standards.

Look for areas where electrical wiring may be running through walls or ceilings, and make sure it is properly protected from potential damage.

Make sure all smoke detectors, carbon monoxide detectors, and other safety devices are in place and working properly.

Check the attic and basement for any exposed wiring or loose connections.

Make sure outdoor and landscape lighting is properly installed and up to safety standards.

Inspect any appliances that are included in the sale of the home, such as the dishwasher or washing machine, to make sure they are in good working order.

Test all GFCI outlets to make sure they are properly grounded and functioning correctly.

Confirm that any necessary permits were obtained for any electrical work done to the home, such as adding outlets or switches.
What to Do if the House is Not Compliant with Electrical Codes
If an electrical inspection reveals that the house is not compliant with current electrical codes, it is important to take steps to rectify the issue before purchasing the home. If the homeowner is unwilling or unable to make the necessary repairs, it may be best to look for another home to purchase. Alternatively, the buyer and seller may be able to negotiate a lower purchase price if the necessary repairs are too costly for the seller to make.
When addressing any electrical issues, it is important to have a licenced electrician do the work. This will ensure that all work is completed safely and up to code. Additionally, the electrician can provide a certificate of compliance which can be used to prove to potential buyers that the electrical system is safe and up to code.
Dan the Sparky Man is a licenced electrician that can assist with any electrical repairs or inspections that are needed prior to purchasing a home. We are experienced in working with both homeowners and real estate agents to ensure that all safety standards are met. Contact us today to learn more about how we can help.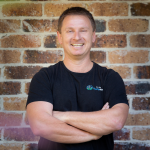 Dan Carpenter has built his business to be one of the most successful and trusted electrical businesses on the Gold Coast. He completed his apprenticeship in Adelaide at a young age. With a passion for self-driven success, he established his own enterprise on the Gold Coast at 22, quickly becoming a leader in the local building and solar industries. His dedication led him to win the Gold Coast Small Business Award and earn the title of Accredited Master Electrician.