Solar energy is always a great investment, for the environment and for your bank balance, and with so many solar companies offering quality products and installation, it's a no-brainer. The only question is, who should you turn to when you need a solar installer for your own property? The decision could mean the difference between a dodgy job and an investment that effectively services your property for years.
Dan Carpenter, director of Dan the Sparky Man, knows a few things about power and the output from different solar technologies. When it came time to install solar power on his own property in Queensland, he had no hesitations in choosing Tigo Energy. Here are the reasons why:
Easy installation
When Dan installed Tigo TS4-A-O optimizers in his home, an easy installation process was the first benchmark of success. "The installation of the TS4-A-O was easy to follow and the setup on the Wi-Fi monitoring was clear and step by step," he said.
If you're considering installing solar in your home or having a qualified electrician do the job for you, they'll appreciate the simplicity of the process with Tigo.
Maximum energy output despite a complex block
You can only rely on solar power to support your household energy needs if your property receives enough light, and complex blocks or building designs can make this very difficult. Dan's property, for instance, includes large sections of steep roof at mixed orientation. In situations like these, Tigo's innovative solar products can help. Tigo Optimisers optimise energy output and minimise losses caused by shade, degradation, and mismatched modules, among other issues.
Monitoring capabilities
Homeowners with solar power installed need to know that the system is producing the power they need, hence monitoring features are very important. The module level monitoring feature included with Tigo optimizers was key to its appeal, as it enabled Dan to monitor each panel and system individually and measure the power each one produced. This unique benefit sets the software apart from others on the market.
In the Tigo monitoring portal, Dan can also view the Reclaimed Energy – or amount of additional energy production that the Tigo optimizers have enabled during each hour of the day. Again, this unique feature allows system owners and installers to quantify the energy benefit that Tigo optimizers provide.
Strong long-term performance
Solar power is the kind of investment that homeowners and investors expect to last, and in this regard, Tigo solar products deliver. In fact, Dan says the solar installation has delivered consistent energy production from the very beginning. "I have had it installed for years, being in the business and where I live it is very beneficial for my home," he said.
The Specs
Location: Queensland, Australia
Commissioned: 2020
System type: Residential
System Capacity: 19.8 kW
Modules: EGING 330 Watt
Goodwe 15 kW 3 Phase
Tigo TS4-A-O optimizers
Considering solar? Choose installation by Dan the Sparky Man
Dan Carpenter has been installing solar for more than a decade. From his early days as a one-man operation, his business has grown to include more than a dozen electricians across Brisbane and the Gold Coast, providing services from Northern New South Wales to South Brisbane.
Need assistance with electrical, lighting, data or solar power projects? Get in touch for a free quote and find out how we can help make your next project a simple and enjoyable experience.
Fill in your details on our website or call us on (07) 5522 4444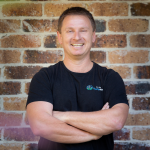 Dan Carpenter has built his business to be one of the most successful and trusted electrical businesses on the Gold Coast. He completed his apprenticeship in Adelaide at a young age. With a passion for self-driven success, he established his own enterprise on the Gold Coast at 22, quickly becoming a leader in the local building and solar industries. His dedication led him to win the Gold Coast Small Business Award and earn the title of Accredited Master Electrician.