The Lights have been switched on, & the welcome sign is on the door, to our new interactive Showroom. Are you building or renovating? Do you have unanswered questions on the latest energy efficient products? Our newly renovated showroom is complete with specialist information on lighting, power and energy saving options that couldn't be handier. Conveniently located in the heart of Nerang, our interactive showroom is the place to head to whether you are after inspiration or education on all things associated with electrical, Solar, LED Lighting & more. Our showroom is unique to the Gold Coast as you are looked after by a qualified Master Electrician, rather than a retail salesperson. We encourage you to bring your new house plans, renovation ideas or even your power bill so that we can assist you in a relaxed environment, where all your questions can be answered and all your options & product choices are on display. Our showroom is open by appointment only so you are guaranteed that personalised service. We are proud to have two fully operational lighting display boards, showcasing our full range of internal and external LED Lighting options. In addition, we have a Clipsal product display board displaying the very best of their range, and the solar panels and inverters we use on display also. What's more, there are copies of the Clipsal Essential Checklist for you to take home, and tons of product catalogues and photographs of past projects for you to have a look at. So call in to our showroom at 3/25 Brendan Drive, Nerang for quality advice, assistance and tailored solutions. If I'm not there, hopefully I'll meet you when you next drop by.
Dan Carpenter Dan the Sparky Man Come and join our social pages for the latest information, tips and products updates Facebook page: http://www.facebook.com/DantheSparkyMan Twitter page: https://twitter.com/DanTheSparkyMan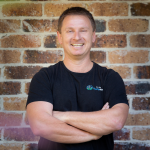 Dan Carpenter has built his business to be one of the most successful and trusted electrical businesses on the Gold Coast. He completed his apprenticeship in Adelaide at a young age. With a passion for self-driven success, he established his own enterprise on the Gold Coast at 22, quickly becoming a leader in the local building and solar industries. His dedication led him to win the Gold Coast Small Business Award and earn the title of Accredited Master Electrician.