Congratulations to Dan Carpenter the Director of Dan the Sparky Man on becoming a finalist in the 2012 Gold Coast Young Entrepreneur of the Year Awards.
This comes after Dan the Sparky Man won the June Gold Coast Business Excellence Awards for Trades, Services and Professions. Dan Carpenter, who left school in Year 11 to join the electrical trade, has grown his business into a million-dollar enterprise just six years after starting out in a van.
The 2012 Business News Publications' Young Entrepreneur Awards will showcase the city's next generation of clever and ambitious business leaders.
Business owners operating in the Gold Coast region, and aged 40 or under in 2012, now have their chance to be acclaimed as one of the glitter strip's top young entrepreneurs. As a finalist they are among the Gold Coast's voluminous talent pool of maturing business stars whose sights are trained on success.
Book your ticket now for the prestigious Young Entrepreneur 2012 Awards luncheon on November 2 at East Restaurant & Lounge Bar, Broadbeach.
Come and join the Dan The Sparky Man social pages for the latest information, tips and products or even join in to the conversation:
Facebook page: http://www.facebook.com/DantheSparkyMan
Twitter page: https://twitter.com/DanTheSparkyMan
For more information or to arrange a consultation, contact us at Dan the Sparky Man on (07) 5578 3481 or info@danthesparkyman.com.au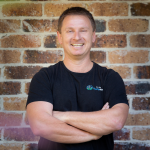 Dan Carpenter has built his business to be one of the most successful and trusted electrical businesses on the Gold Coast. He completed his apprenticeship in Adelaide at a young age. With a passion for self-driven success, he established his own enterprise on the Gold Coast at 22, quickly becoming a leader in the local building and solar industries. His dedication led him to win the Gold Coast Small Business Award and earn the title of Accredited Master Electrician.