Mater Electricians Australia recently contacted Dan Carpenter the Director of Dan the Sparky Man to announce that he had been selected as a feature for this autumn's magazine. This comes after Dan the Sparky Man won the June 2012 Gold Coast Business Excellence Awards for Trades, Services and Professions and was also nominated for the 2012 Gold Coast Young Entrepreneur of the Year.
Dan Carpenter, who left school in Year 11 to join the electrical trade, has grown his business into a million-dollar enterprise just six years after starting out as a single man in a van. "It's an honour to be recognised by your peers and the whole electrical industry" Dan said about the article.
The Master Electrician is the leading magazine servicing the electrical industry. The magazine is full of information about the latest industry news, emerging technologies, renewable energy solutions, technical and safety advice, workplace relations and general information about running an electrical contracting business.
To read the full article you can find a copy of The Master Electrician Magazine online here http://www.masterelectricians.com.au/page/Publications/The_Master_Electricians_magazine/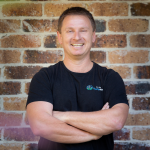 Dan Carpenter has built his business to be one of the most successful and trusted electrical businesses on the Gold Coast. He completed his apprenticeship in Adelaide at a young age. With a passion for self-driven success, he established his own enterprise on the Gold Coast at 22, quickly becoming a leader in the local building and solar industries. His dedication led him to win the Gold Coast Small Business Award and earn the title of Accredited Master Electrician.