We are very pleased to announce that we are now offering the Certegy Ezi-Pay Express payment plan to our customers.
This payment plan is perfect for those who are looking to invest in solar for their new home or renovation project, but don't want to pay for it all upfront.
There may be many reasons why you are considering moving to a more environmentally friendly energy or product solution. Perhaps it's to help the environment. Maybe it's to reduce the impact of the ever escalating rises in energy costs. But "going green" is more than just a statement, it's a financial and lifestyle commitment as well.
So that's why we have decided to offer the option of taking out a payment plan for your solar installation. And we have chosen nothing but the best when it comes to the plan – Certegy is the preferred supplier of payment solutions to help meet the environmental needs of consumers across Australia.
Spreading the cost of your solar panels or other energy efficient solutions over a period of time makes sense – it gives you the best chance of enjoying the benefits whilst easing the financial commitment upfront. And best of all, Certegy Ezi-Pay Express has no interest ever.
The plan works as a "revolving credit account" that allows you to purchase goods or services today from participating businesses by paying an initial deposit, with the remaining balance conveniently direct debited fortnightly. The application is simple with no invasive questions and fast approval times. You will only need to make a once-off account establishment fee between $35 and $90, which is payable over the term of the purchase plan, and you're good to go.
Your account will provide you with access to online information about your purchases, credit schedules, and available credit. There is a small monthly account keeping fee of just $3.50 which will be direct debited while your account remains active.
We are so happy to now be a participating business in the Certegy Ezi-Pay Express payment plan and we hope it convinces are few more people on the fence about solar to jump on board. Please do not hesitate to phone, email or make an appointment with us at our Gold Coast showroom if you would like more information on the payment plan.
Dan Carpenter
Come and join our social pages for the latest information, tips and products updates
Facebook page: http://www.facebook.com/DantheSparkyMan
Twitter page: https://twitter.com/DanTheSparkyMan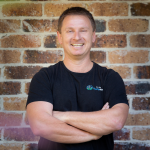 Dan Carpenter has built his business to be one of the most successful and trusted electrical businesses on the Gold Coast. He completed his apprenticeship in Adelaide at a young age. With a passion for self-driven success, he established his own enterprise on the Gold Coast at 22, quickly becoming a leader in the local building and solar industries. His dedication led him to win the Gold Coast Small Business Award and earn the title of Accredited Master Electrician.