Summertime on the Gold Coast means that the outside evening temperatures are just right. And as we tend to live a huge portion of our lives outdoors, what more reason do you need to light up your external living space and give it that resort like feel? Strategically placed backyard lighting will ensure you can kick back and relax, let the kids and pets run amok, or enjoy a BBQ in your outdoor area all year round.
Here are our top 4 ways to bring your backyard to life through clever lighting…and to be the envy of your neighbours in the process!
Garden lighting –
When selecting lights to place in your garden, there are a few different types you could go for depending on what you garden is made up of. Firstly, opting for in-ground spike lights may be a good idea if you have something like a beautiful statue or palm tree that you'd like to draw attention to. Placing spike lights at the bottom of the feature will highlight it and create a stand-out area of the garden. Alternatively, smaller foliage lights may be appropriate if you want to give your garden a consistent ambient glow. Or, if you are looking to really light up your garden, a combination of both in-ground spike lights and foliage lights may even be something to consider.
Deck lighting –
If you have a timber deck, lighting it up will instantly liven up your whole backyard and give your deck more aesthetic appeal. Aside from this, deck lighting is also very practical as it means you can continue to entertain outside and enjoy your deck's beauty well into the night, as well as light up your deck stairs if you have any.
Paver lighting –
In-ground paver lights are a great alternative to ceiling lights. Placing these lights around the edge of your outdoor space will create soft and relaxed-mood lighting, perfect for outdoor entertaining on those hot summer nights.
And last but not least, pool lighting –
For many, the pool is the key feature of the backyard and we want it to look its best, so pool lighting is a brilliant and worthwhile addition to your outdoor area. Not only do they increase safety, lit up pools also make for the perfect setting for night-time entertaining and let's face it – nothing is more inviting or more calming than a night swim in a well-lit, crystal blue swimming pool!
For more tips on how you can bring your backyard to life, you can contact us at info@danthesparkyman.com.au
Dan Carpenter
Dan the Sparky Man
Come and join our social pages for the latest information, tips and product updates.
Facebook page: http://www.facebook.com/DantheSparkyMan
Twitter page: https://twitter.com/DanTheSparkyMan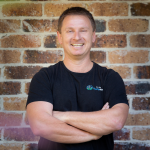 Dan Carpenter has built his business to be one of the most successful and trusted electrical businesses on the Gold Coast. He completed his apprenticeship in Adelaide at a young age. With a passion for self-driven success, he established his own enterprise on the Gold Coast at 22, quickly becoming a leader in the local building and solar industries. His dedication led him to win the Gold Coast Small Business Award and earn the title of Accredited Master Electrician.