At DTSM, we are always monitoring the world of interior design and lighting to make sure we are keeping in-the-know with the latest trends. And for new home owners or renovators, there are definitely some lighting styles to consider if you want the most happening home on the Gold Coast!
There are two components to what makes a modern lighting fixture. The first component is design. In order for a lighting fixture to be on trend, it must have a contemporary aesthetic. The second component is technology. LED is the most current and energy efficient lighting technology available and for a lighting fixture to be in vogue, it should be compatible with this technology.
Pendant lighting has become a dominant focus in modern interiors, with many using stylish and original pendants either as a large single focus or multiple single pendants grouped together. For hanging both single and multiple pendants, the current trend is to go BIG; but you need to make sure the pendant ties in with the existing décor. Big, bold lighting features attract attention in all the right ways and can add interesting levels to a space. In addition, if you want your new pendant lighting to not only be inspiring but also energy efficient, we can fit them with LEDs.
Source: Lights2You
Houzz has also just released their Top 10 Lighting Trends for 2014 which are as follows.
1. Matte is in, glossy out – this is the spinning BH2 Suspension Light in Matte Gray by &Tradition.
2. Gold is the new black – this is the SR2 Mega Bulb Pendant Light in Gold Luster Transparent glass designed by Sofie Refer for &Tradition.
3. Back to classics – this is the BL10 Wall Light in Black designed by Robert Dudley Best for Bestlite.
4. Lights made of bamboo plywood – this is the Hinaki Suspension Light in White designed by David Trubridge.
5. Lights made of concrete with LED technology – this is the Aplomb LED Suspension Light in White designed by Lucidi and Pevere for Foscarini.
6. Lights made of plywood veneer in various colours – this is the Link Suspension Light in Red designed by Ray Power for LZF.
7. Architectural linear lighting – this is the Robinson Pendant Light in Beige designed by Gabriel Teixido for Carpyen.
8. Beech wood grain pendant lights – this is the Cerno Levis pendant.
9. Pearl white fabric lamps – this is the Mercer Table Lamp designed by Javier M. Borras & Joan Gaspar for Marset.
10. White pendant lights – this is the Discoco Suspension Light designed by Christophe Mathieu for Marset.
Lighting trends are continuously evolving and although the current trends are modern and creative, it is important that you do not simply follow a trend for the sake of it when installing a lighting fixture. Instead, choose something that you love and are inspired by because at the end of the day, trends come and go, but your love of a lighting fixture can last a lifetime.
If you want to start planning your own lighting design, Pinterest and Houzz are a great place to start. Having a Pinterest or Houzz profile will allow you to save all of your thoughts in one space. Plus, you can follow our boards for our lighting and interior ideas for the home on Pinterest or Houzz.
Happy lighting planning!
Dan Carpenter
Come and join our social pages for the latest information, tips and product updates.
Facebook page: http://www.facebook.com/DantheSparkyMan
Twitter page: https://twitter.com/DanTheSparkyMan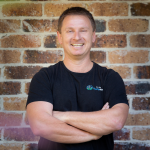 Dan Carpenter has built his business to be one of the most successful and trusted electrical businesses on the Gold Coast. He completed his apprenticeship in Adelaide at a young age. With a passion for self-driven success, he established his own enterprise on the Gold Coast at 22, quickly becoming a leader in the local building and solar industries. His dedication led him to win the Gold Coast Small Business Award and earn the title of Accredited Master Electrician.